Polish - Irish EXCHANGE 21st-28th June 2009
YES SCHOOL
21st  Sunday ARRIVAL in Roscommon
Roscommon is the 11th largest of Ireland's 32 counties in area, the fifth least populous county in Ireland and has the second least population density after Leitrim. It is the third largest of Connacht's 5 counties in size and fourth largest in terms of population. In 2008 it was revealed that statistically, Roscommon has the longest life expectancy of any county on the island of Ireland
Roscommon Town
Roscommon Town, the ancient capital of Connaught, is the county town. It has a rich and varied history and still has its abbey and castle. The old jailhouse, built in the early 1740's, is reputed to have had the only female "hangman" in Ireland. The eighteen hole golf course is only a mile to the south of the town, and Moate Park Forest a mile or so further on. The town is an ideal place to eat out having a wide range of restaurant/bars and cafes. Many of the pubs have traditional Irish music evenings. Roscommon also has a racecourse and meets are held regularly throughout the year.
The first day we spent in Roscommon getting to know host families and walking through the forest near Roscommon. In the evening we had a lot of fun playing bowling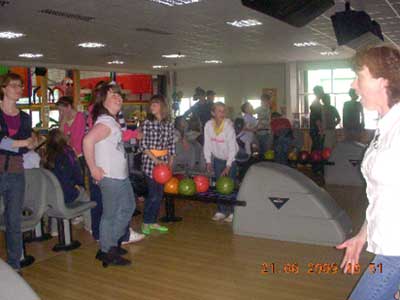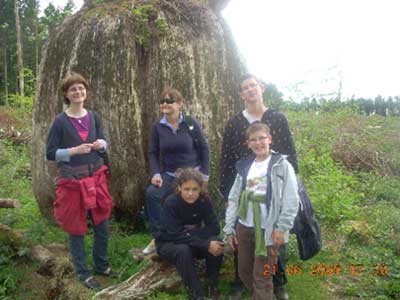 22nd Monday Lough Key - Boda Borg Activity Park
The main attraction is a visit to Lough Key Boda Borg-Activity Park the the innovative, Weather Independent  Boda Borg is a Swedish concept unique to Ireland and is challenging for both adults and children.
It is a  two-storey Boda Borg building and you work in  teams training ingenuity, trial and error and skills you probably didn't know you have will allow you to progress through its 47 rooms! It contains in 47 rooms fun-filled activities, imaginative puzzles and enjoyable tasks but no instructions
Every adventure starts in your own mind... new paths are explored... together... with curiosity, laughter and excitement.
We took a challenge and  quested many of the chambers like FARM, LIGHT, LASER, .
Every  following day we had lunches outside prepared by the parents of our host families.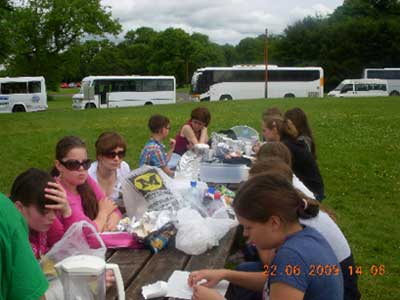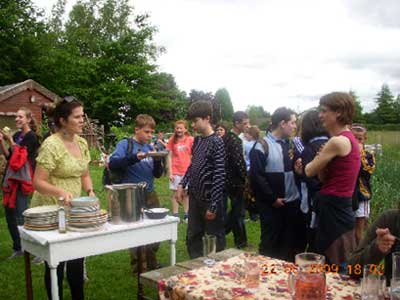 Later that day we took part in a guide tour around  the area learning a bout the King's Harmon castle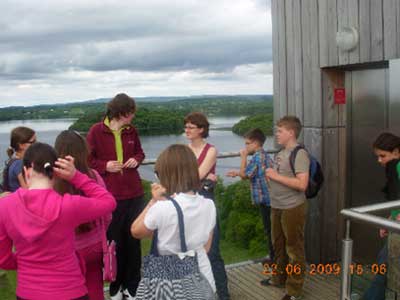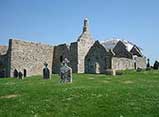 23rd Tuesday River Shannon and Clon macnoise
We went for a ship cruise on the Shannon River- the longest river in Ireland and the British Isles, but the main attraction was Clonmacnoise. The monastery of Clonmacnoise (Cluain Mhic Nóis in Irish, meaning "Meadow of the Sons of Nós") is situated in County Offaly, Ireland on the River Shannon south of Athlone. It was visited by the Pope in 1979.

St Kieran's Cathedral from the south-east (centre and left), Temple Doolin and Temple Hurpan (right) and Temple Meaghlin (behind, covered)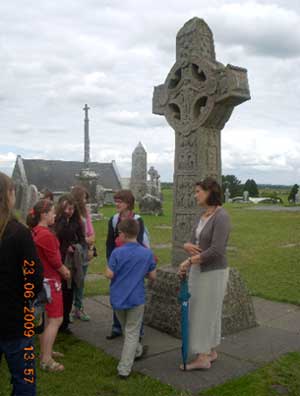 Clonmacnoise was founded in 545 by Saint Ciarán in the territory of Ui Maine at the point where the major east-west land route through the bogs of central Ireland along the Eiscir Riada, an esker or moraine left by the receding glaciers of the last ice age crossed the River Shannon. Saint Ciarán had been educated by St. Finnian of Clonard and also by Abbot St. Enda of Aran.

Shortly after his arrival with eight companions, Ciarán met Diarmait mac Cerbaill who helped him build the first church - a small wooden structure and the first of many small churches to be clustered on the site. Diarmuid was to claim the title of the first Christian High King of Ireland. Ciaran died about one year later of the yellow plague and was buried reputedly in the building now known as Temple Ciaran; he was in his early thirties.

The strategic location of the monastery helped it become a major centre of religion, learning, craftsmanship and trade by the 9th century and together with Clonard it was the most famous in Ireland, being visited by scholars from all over Europe. Until the 9th century it had close associations with the kings of Connacht and then until the 11th century it was alliance with the kings of Mide. Many of the high kings of Tara and Connacht were buried here. It was attacked frequently, by the Vikings, Anglo-Normans and other Irish forces.
24th Wednesday The day in School in Roscommon
We were invited to school. And we took part in the presentation about the space presented by the Australian teacher. We got familiar with a history of space travels and he presented the uniqueness of each planet in the solar system.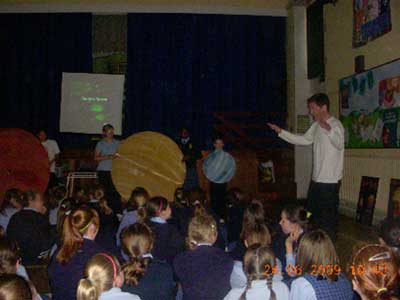 Later we listened to the Irish music band which consist of students playing different irish instruments in Roscommon Primary school. Then we had a chance first to watch then to dance Irish Dances. Our young teachers were very patient!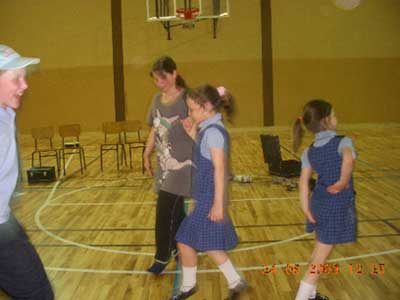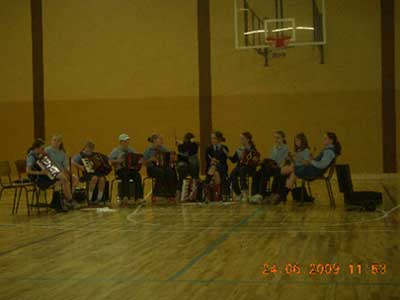 Then we played the basketball match .Then we had a short percussion lesson .We learnt rhythm playing different kinds of drums ( I play, you play, come on play away, Cake, I want some, cake I want some Do you want some,) . Then we had a tour around Roscommon. We got to know about the history of the newly opened Park planted on peat bog ashes.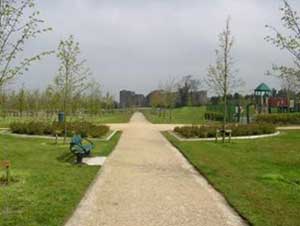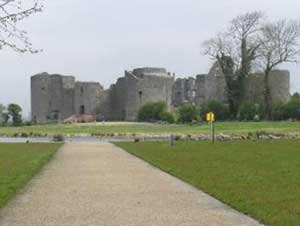 25th Thursday Visit in Dublin Fair city.
We went for a bus tour to Dublin. First we enjoyed the water Park and then went to the National Museum of Ireland and to the Trinity college. We managed to see the monument of the famous Molly Malone a fishmonger. We sang a well-known song there . In Dublin's fair city,
Where girls are so pretty,
I first set my eyes on sweet Molly Malone,
As she pushed her wheelbarrow
Through streets broad and narrow,
Crying, "Cockles and mussels, alive, alive oh"!
Chorus:
Alive, alive oh! alive, alive oh!
Crying, "Cockles and mussels, alive, alive oh"!
2. Now she was a fishmonger,
And sure twas no wonder,
For so were her mother and father before,
And they each wheeled their barrow,
Through streets broad and narrow,
Crying, "Cockles and mussels, alive, alive oh"!
Chorus:
3. She died of a fever,
And no one could save her,
And that was the end of sweet Molly Malone.
Now her ghost wheels her barrow,
Through streets broad and narrow,
Crying, "Cockles and mussels, alive, alive oh"!
Chorus: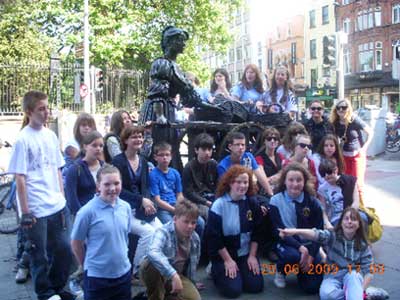 27th Saturday Final barbecue In the O'Haras house
That day we spent with our host families visiting different places. Some of us went shopping , some visited Gallway, some came back to Boda Borg.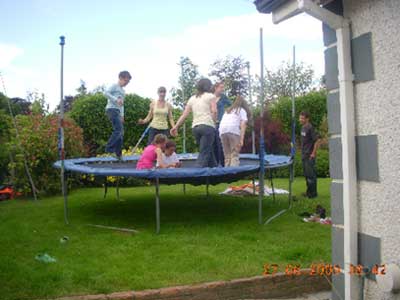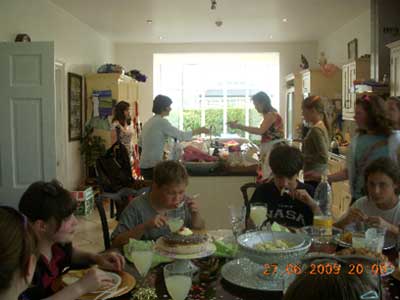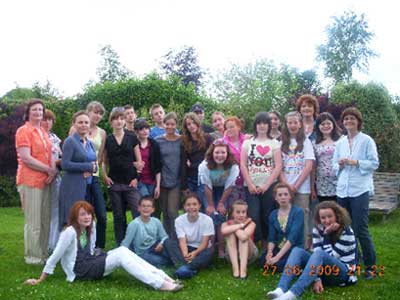 28th Sunday Departure from Dublin Airport
Summing up we spent a wonderful time surrounded by extremely friendly people.We had a unique opportunity to get to know the country from the inside. We spoke English all the time in the natural surrounding. We hope the exchange will last and the next groups wiil get familiar with the Irish history , culture and customs
Many Thanks to Una Feeley- the principal of the school, Patrica Morris, Ann Aigo and Wojtek Wawrzynek and to all host families and children from Roscommon